Tour Your Tableau Site
When you sign in to Tableau Server or Tableau Online, the first page you see looks similar to the following example. The Home page gives you quick access to newly added favorites, recently visited views, and popular content.
Navigate content
To see all of the content you have access to across your Tableau site, from the navigation panel, click Explore. Your site role and permissions determine the content that you can see and the options that are available.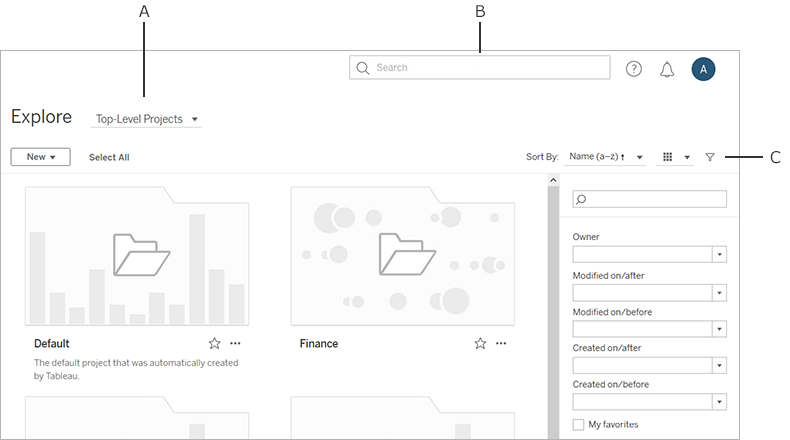 By default, Explore shows Top-level Projects. You can select different content types from the menu to see all projects, workbooks, views, data sources, or flows.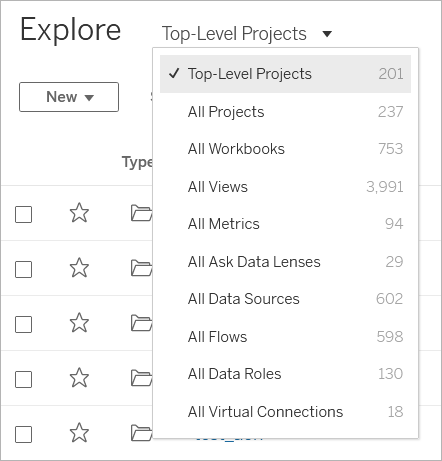 Projects
Projects provide a way to organize the content on your site. Top-level projects can contain other (nested) projects, forming a hierarchy that you navigate like the file system on your computer.
When you open a project, you see all of the content that project contains on a single page, including any nested projects, workbooks, data sources, and flows.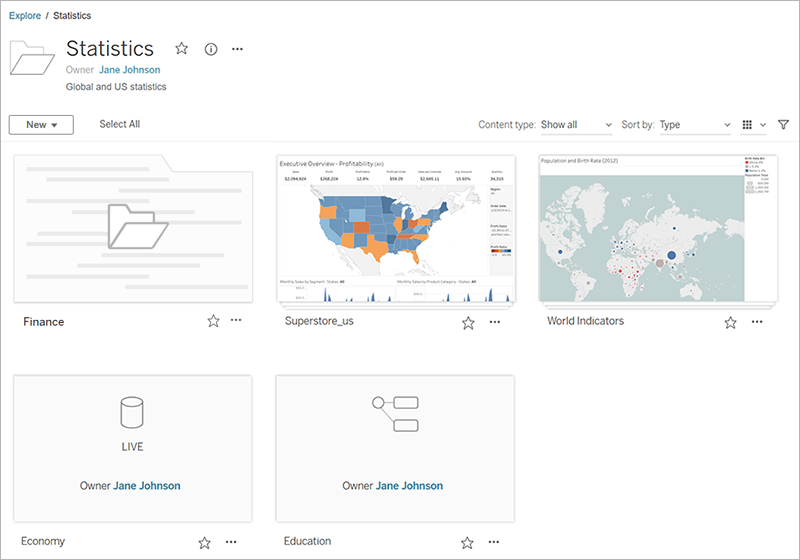 To see only specific content types, click the Content type drop-down menu and de-select the content types you don't want to see. You can select the Show workbooks as views option to see all of the individual views within a workbook displayed on the project page.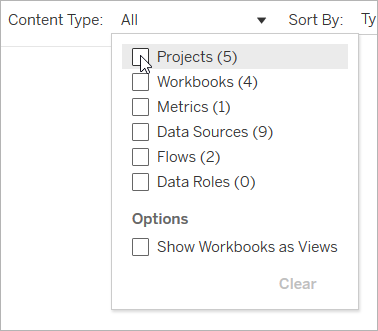 Workbooks
A workbook page shows the views included in the workbook and the data sources used by the workbook. It also provides a list of user subscriptions to either the workbook or to individual views.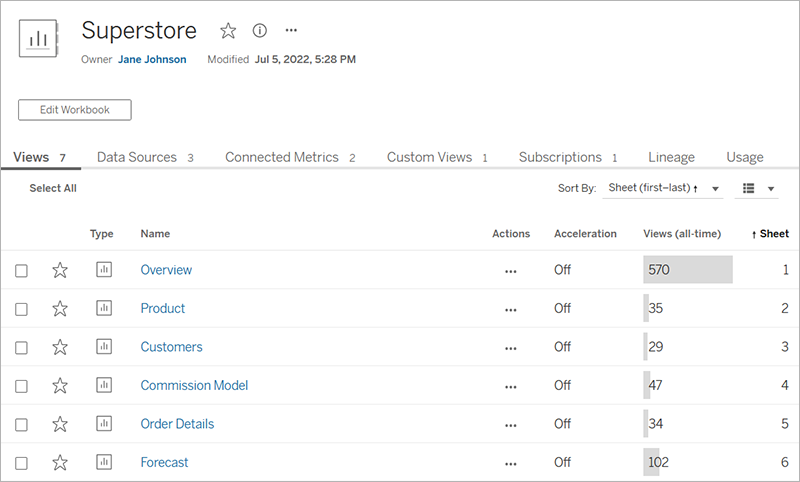 For more information about creating workbooks, see Creators: Get Started with Web Authoring.
Views
A view page displays options for interacting with the view, including sharing, subscribing, and editing. The options available in the toolbar vary depending on the site configuration and your permissions.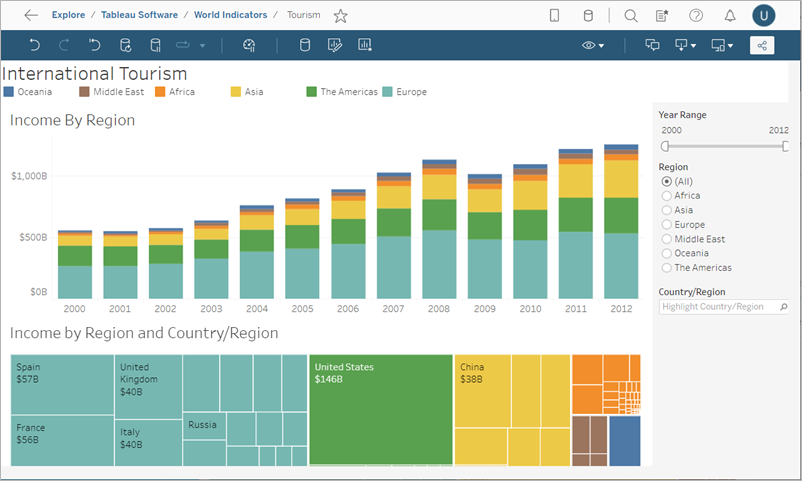 When a workbook is published from Tableau Desktop with the Show sheets as tabs option selected, you can see each sheet by clicking the tabs above the view title.
Note: The 12 most recent views you have visited appear on your Recents page.
For more information about working with views, see Edit Tableau Views on the Web.
Data sources
A data source page shows data connections and the workbooks connected to the data source. If the data source is an extract, the page also shows scheduled extract refreshes.
You can use Ask Data to investigate your data, right from the data source page. Type a question and instantly get a visualization as an answer. For more information, see Automatically Build Views with Ask Data.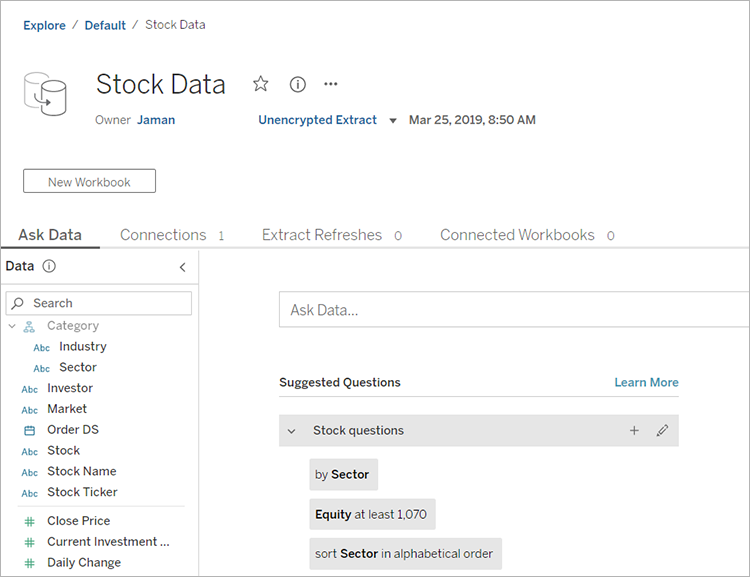 To see data source type and authentication details, from the Show as menu, select Connections.

Flows (Tableau Server only)
A flow page allows you to schedule flows to run automatically to update flow output data. To see and work with flows in Tableau Server, you must have the Data Management package included with your Tableau Server installation, and Tableau Prep Conductor must be enabled.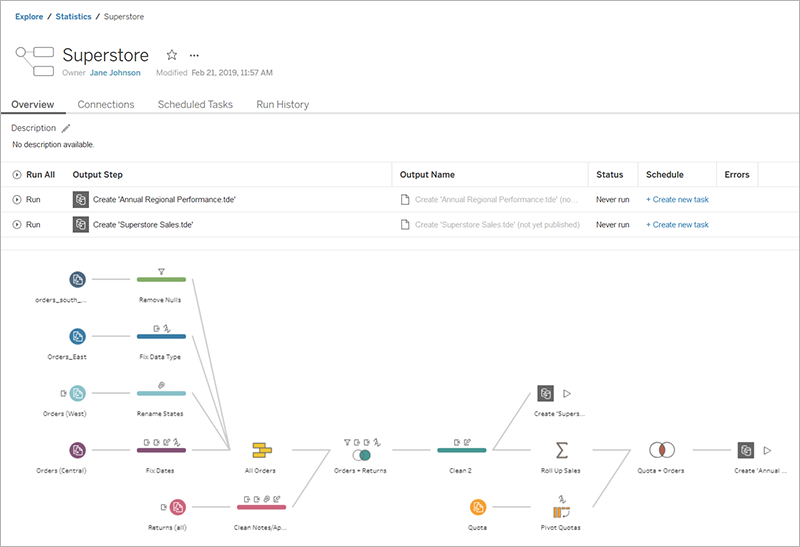 For more information about working with flows, see Keep Flow Data Fresh in the Tableau Prep online help.
View content as list or grid
You can display items as a list or as a grid of thumbnails by clicking the View as icons.
Here's the list view: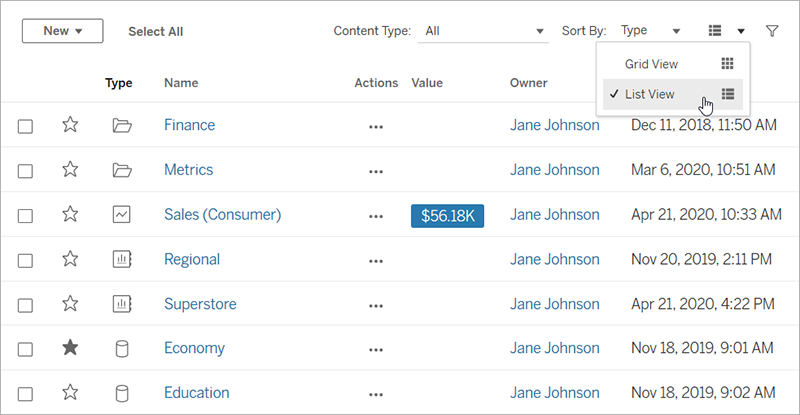 In list view:
indicates a project
indicates a workbook
indicates a view
indicates a published data source
indicates a flow
And here's the grid view:

In grid view, you can hover over thumbnails to see details about the items.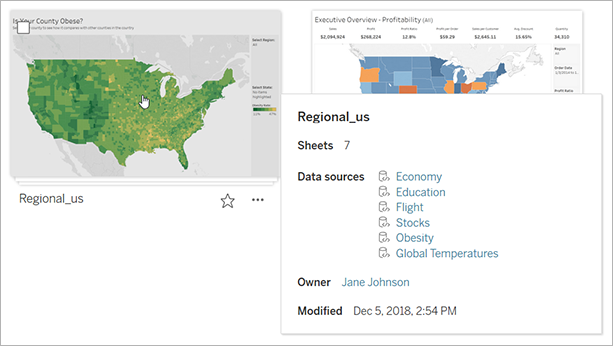 Sort content
To sort items, click the Sort by drop-down menu. You can sort by characteristics such as name, owner, number of views, and creation date.
This example shows the sort options for number of page views.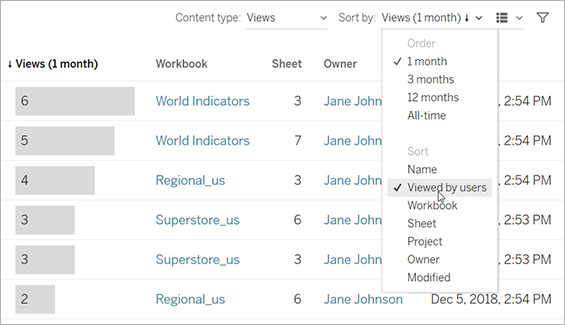 You can also sort a list by clicking the column heading. An arrow indicates the order: ascending (up arrow) or descending (down arrow).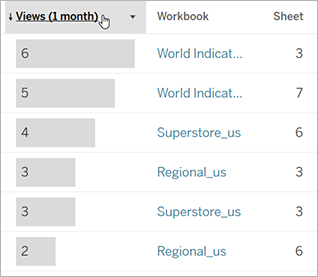 Identify and navigate sites
Each site on Tableau Server and Tableau Online has a name and an ID.
On Tableau Server, if only one site exists, that site is named Default. When you're signed in to the Default site, the browser URL looks something like this:
https://server-name/#/projects
If you have access to multiple sites, you select one when you sign in.
On Tableau Online or an instance of Tableau Server running multiple sites, the browser URL includes #/site/ followed by the site ID. If the URL doesn't include /site, then you're signed in to the Default site.
The following URL shows an on-premises Tableau Server site whose site ID is finance:
https://localhost/#/site/finance/views
Once signed in, you can navigate to another site by selecting it from the site picker.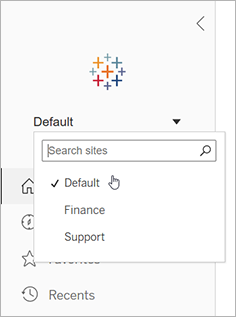 Thanks for your feedback!
There was an error submitting your feedback. Try again or send us a message.