Manage Web Content
Content on Tableau Server and Tableau Online consists of projects, workbooks, views, data sources, and flows (Tableau Server only). The Explore page shows all the content that you have access to on a site. For information about navigating content, see Tour Your Tableau Site.
Access content options
The top of each content page displays the name of the content, the content owner, and a description of the content, if one exists. Some types of content may show additional information, such as the date the content was last modified.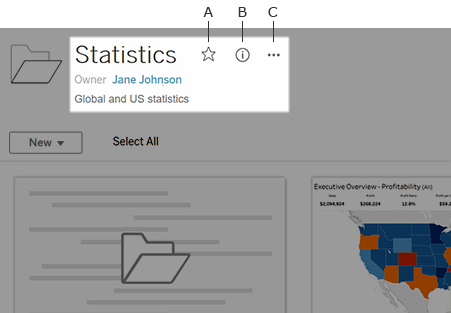 You can use the icons next to the content name to:
If you own the content and have appropriate permissions, you can edit the item's details. Click the details icon to edit the description, change the owner, and more.
Access your content
To see the content you own, click your profile image or initials at the top of the page, and then click My Content.

Your content page displays your user information and the content that you own. From this page, you can also access your alerts, subscriptions, and account settings.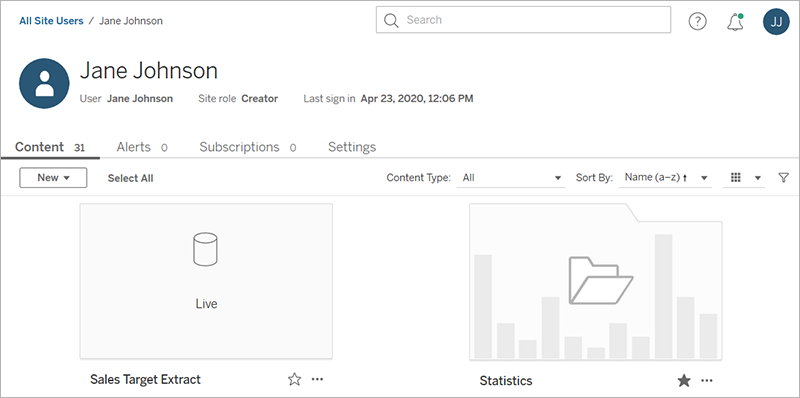 Click Settings to go to your account settings from your content page. To learn more, see Manage Your Account Settings.
Perform actions on content
Click check boxes to select content, then click the Actions drop-down menu to access commands available for that content.
In you don't have permission to perform an action on the content selected, the action will be disabled. If you select multiple pieces of content, and you don't have permission to perform an action on one of the pieces of content selected, you will get an error when you try to perform the action on that content.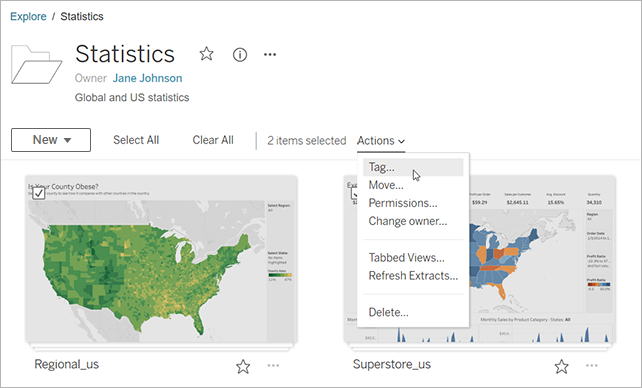 Note: Different content types have different actions available. If you select more than one content type, for example, selecting a workbook and a data source, the actions you see will be limited to those in common between the types.
Access the actions menu for the content you currently have open by clicking the … at the top of the page.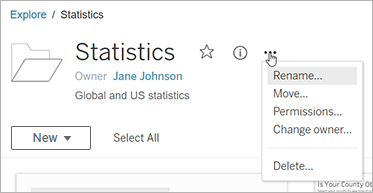 In grid view, access the actions menu from the lower-right corner of a thumbnail.
In list view, access the actions menu to the right of the content's name.
Thanks for your feedback!
There was an error submitting your feedback. Try again or send us a message.