Share Web Content
Share projects, workbooks, views, data sources, and flows with other users either directly via your Tableau site or by copying a link to the content. For views, in addition to sharing a link, you can embed a view into a web page.
To see the content you share with them, users must have permission to access that content in Tableau Server or Tableau Online. If users don't have permission, they can request access to projects, workbooks, and views upon opening the link to the shared content.
Share directly with other users
Open the actions (…) drop-down menu for the content you want to share.

Select Share from the menu.

Under Share with people, enter at least one user name. When you type, names that match your text appear.

Under Message, enter an optional note to your recipients.

Click the Share button.

An email containing a link to the content, and any optional message, is sent to the users specified. If the recipients reply to this email, you will receive the response at the email address associated with your Tableau account.
Copy a link to share
Copy the link generated for a piece of content to share without sending an email to specific users.
Open the actions (…) drop-down menu for the content you want to share.

Select Share from the menu.

Click the Copy Link button, then paste the link into an application to share it with others.
Tip: If you don't see the Sharing using a link option, clear any names from under Share with people.
Share and embed views
In addition to the sharing options listed above, views have unique options available when you click the Share button on the toolbar for a view. You can share a view that you have modified, and you can get the embed code for a view.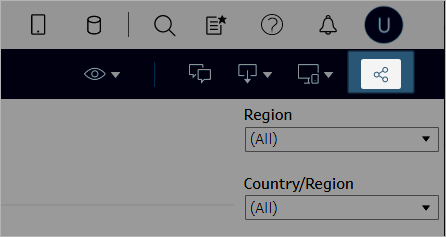 Share modified or custom views
If you modify a view, by selecting marks or filters, Tableau captures these modifications by generating a unique link when you click the Share button. This unique link replaces the link to the original view for all sharing and embedding options. That way, the people you share with will see exactly what you were seeing when you shared.
The link generated for a modified view expires two years after is was last accessed, or two years after it was created if never accessed.
To share a custom view that you have saved, simply open the custom view and use any sharing option.
Embed views
Click Share in the toolbar for the view you want to embed.

Click Copy Embed Code, then paste the embed code into the source code for the page where you want to embed the view.
For more information, see Embed Views into Webpages.
Thanks for your feedback!
There was an error submitting your feedback. Please try again.