Keep Flow Data Fresh
Note: The content in this topic is focused on running flows on a schedule, which requires the Data Management Add-on with Tableau Prep Conductor enabled. Starting in version 2020.4.1, the Data Management Add-on isn't required to create and edit flows in Tableau Server and Tableau Online and to run your flows manually.
You've built your flow and cleaned your data, but now you want to share your data set with others and you want to keep that data fresh. You can always manually run your flows in Tableau Prep Builder and on the web and publish an extract to Tableau Server, but now there's a better way.
Meet Tableau Prep Conductor, part of the new Data Management Add-on to Tableau Server version 2019.1 and later. If you add this option to your Tableau Server or Tableau Online installation, you can use Tableau Prep Conductor to run your flows on a schedule to keep your flow data fresh.
And starting in version 2021.3, you can run up to 20 flows on a schedule, one after the other using the new Linked Tasks option. For more information about running flows using linked tasks, see Schedule linked tasks(Link opens in a new window) in the Tableau Server help.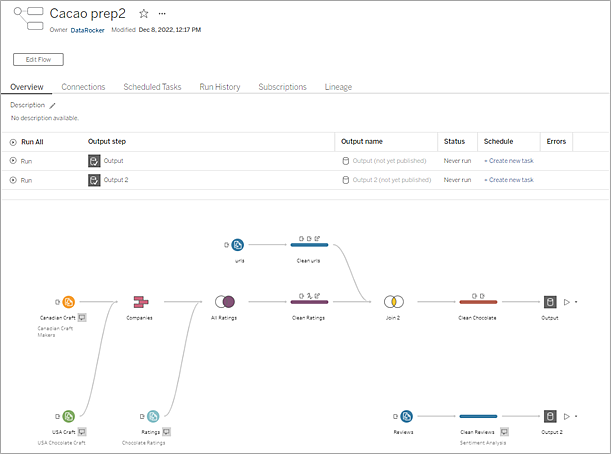 Note:If Tableau Catalogue is installed, you can also see data quality warnings about your flow input data and view the upstream and downstream impact of fields in your flow on the new Lineage tab. For more information about Tableau Catalogue, see About Tableau Catalogue(Link opens in a new window) in the Tableau Server online help.
With Tableau Prep Conductor you can do the following:
Configure your Server or Site to use Tableau Prep Conductor

Enable or disable Tableau Prep Conductor for individual sites

Set up email notifications for flow failures for flows that are run either on-demand or using a schedule

Configure flow timeout settings

Publish a flow from Tableau Prep Builder to Tableau Server or Tableau Online. Starting in version 2020.4.1, the Data Management Add-on is not required to publish flows to the web.

Upload data files or connect directly to your files (Tableau Prep Builder only) or databases. If connecting to databases, you can either embed the database credentials or require a user prompt.

Note: If you connect to data files through a direct connection or publish your flow output to a file share, the files need to be in a location that Tableau Server can access. This option is not available for flows created on the web. For more information see Step 4: Safe list Input and Output locations(Link opens in a new window) in the Tableau Server help.

Select from a project hierarchy when publishing your flows

Enter tags and a description to help others find your flow

Manage the flow

Set permissions

Move the flow to a different project

Change the flow owner

Add or edit tags

View the version history and select from the list to restore the flow to a previous version

Mark a flow as a favourite and add it to your favourites list

Edit an input connection and update credentials

View data sources created from a flow and link back to the flow that created it

Create schedules to run your flows or run your schedules on demand

Add scheduled tasks to run the flow and select which flow outputs to update

Add scheduled linked tasks to run multiple flows one after the other

Run the flow on demand without a schedule

Monitor the flow

Set up email alert notifications

View errors

Monitor and restart flows that have been suspended

View run history

Use Admin views
Other articles in this section
Thanks for your feedback!