Tableau integrates with Slack to let you see your Tableau notifications right where work and collaboration happen in Slack. The Tableau Slack app also lets you see snapshots of visualisations, with links back to your Tableau site for further exploration. In Tableau 2021.3 and later, you can get Tableau notifications in Slack for data-driven alerts, sharing activity and comment mentions. If the notification contains a view or workbook you have access to, the notification will also contain a visual snapshot.
Administrators can connect their Tableau site to a Slack workspace to enable the Tableau app for their entire organisation. For more information, see "Integrate Tableau with a Slack Workspace" in the Tableau Cloud or Tableau Server help.
Note: For information about privacy, see the Privacy Policy.
Get notified when you're @mentioned in a comment to keep the conversation going. For more information, see Comment on Views
See when a teammate sends a Tableau asset your way, including views, workbooks and more. For more information about sharing, see Share Web Content.
You can specify a threshold for your data and be alerted when it's met. For more information, see Send Data-Driven Alerts from Tableau Cloud or Tableau Server.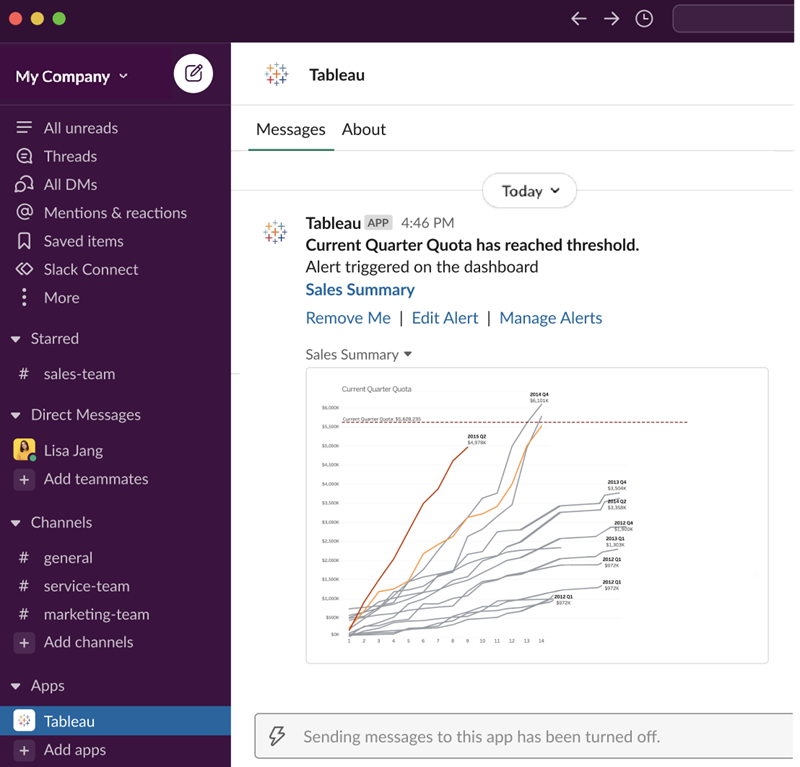 Manage Tableau notifications for Slack
Your site administrator can enable or disable all notifications across the site. Tableau administrator and Slack workspace administrator integrate your Tableau site with Slack and control whether site users can receive notifications. If it's enabled and your Tableau site administrator allows notifications, all site users can receive notifications in Slack through the Tableau app. Sometimes notification preferences aren't available because the site has other settings configured that affect notifications.
To control which notifications appear in your Slack workspace, or to disable Slack notifications, at the top of a page, click your profile image or initials and then select My Account Settings.

Under Notifications, select or clear the tick boxes under Slack for comment mentions, shares and data alerts.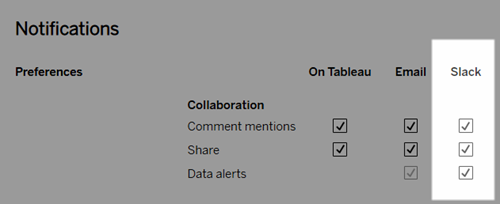 Select Save Changes.
For more information, see Change notification settings in Manage Your Account Settings
Thanks for your feedback!