This topic contains an overview of some of the key new features added in Tableau Online.
Tableau Online Release Notes(Link opens in a new window) | Known Issues(Link opens in a new window)
Web authoring and interacting with views
For new features and enhancements related to web authoring and interacting with views, see What's New in Tableau Desktop and Web Authoring(Link opens in a new window). For more topics related to those tasks, see Using Tableau on the Web(Link opens in a new window).
What's new in September 2021
Share, collaborate and keep up with your data in Slack
You can now see Tableau notifications in Slack with the Tableau for Slack app, which lets Tableau Online site administrators connect with a Slack workspace. Once connected, licensed Tableau users can receive notifications in Slack when they're mentioned in a comment, when teammates share content with them or when data meets a specified threshold in a data-driven alert. For more information, see Integrate Tableau with a Slack workspace.
Save workbooks in Personal Space
Creators and Explorers can now edit and save content to Personal Space, a private location for each web author on a Tableau site. Content saved to Personal Space is private to the user and controlled by added resource governance. In Settings, you can enable Personal Space and set user storage limits. Administrators can continue to access and manage all content, including Personal Space content. For more information, see Create and Edit Private Content in Personal Space.
Set your workbook data freshness policy
Strike a balance between performance and data freshness by using workbook data freshness policies. While cached data is great for the performance of live-connection workbooks, seeing stale cached data in a viz can cause confusion and frustration for workbook users. Now with data freshness policies, workbook owners or administrators can choose granular data freshness policies, so the freshest data appears when your business needs it.
From the Workbook Details dialog in Tableau Online or Tableau Server, choose Edit Data Freshness Policy. Then, choose one of the following:
Site default (12 hours in Tableau Online)
Always live (Tableau will always get the latest data.)
Ensure data is fresh every...then, set your interval, such as every 12 hours.
Ensure data is fresh at...then set your days and times, such as Monday, Wednesday and Friday at 09:00 AM Pacific time.
Data freshness policies allow you to optimise workbook performance on a schedule that meets the needs of your business. For more information, see Set a Data Freshness Policy.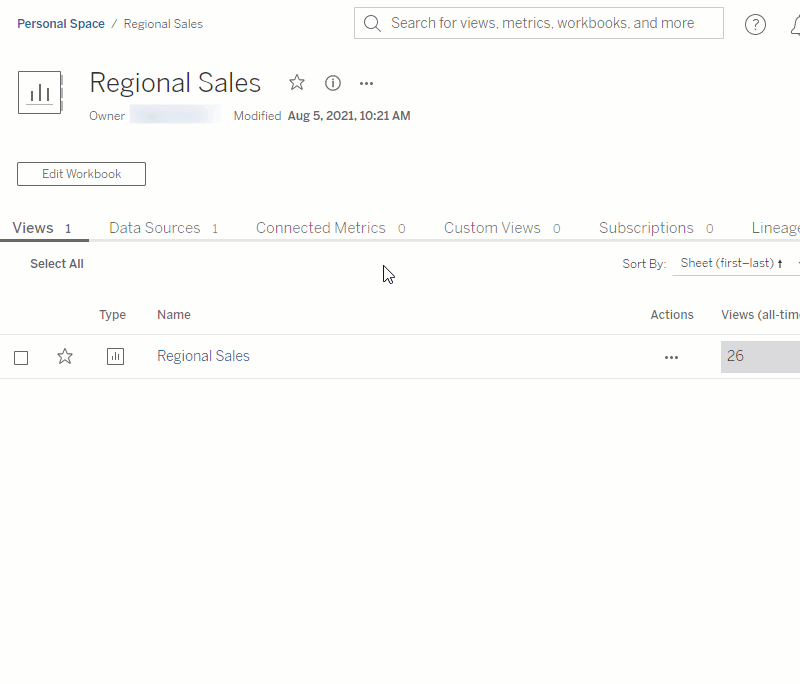 Rename published data sources
In Tableau Online and Tableau Server, you can now rename a published data source for which you have Save permissions. To rename a published data source, click the More actions menu and choose Rename – just like renaming workbooks. You can also rename a published data source using the Update Data Source REST API(Link opens in a new window). When a published data source is renamed, all workbooks that use that data source will use the new name after the next data source refresh is complete. For more information, see Best Practices for Published Data Sources.
Use axes animations to see and understand changes in scale
Axes animations are now available in Tableau Desktop, Tableau Online and Tableau Server. For example, when you filter your viz to include a new data group, you'll see that the scale of the axis changes because a new value was added. Axes animations allow you to see changes of scale in context so you can make better conclusions about your data. For more information, see Format Animations.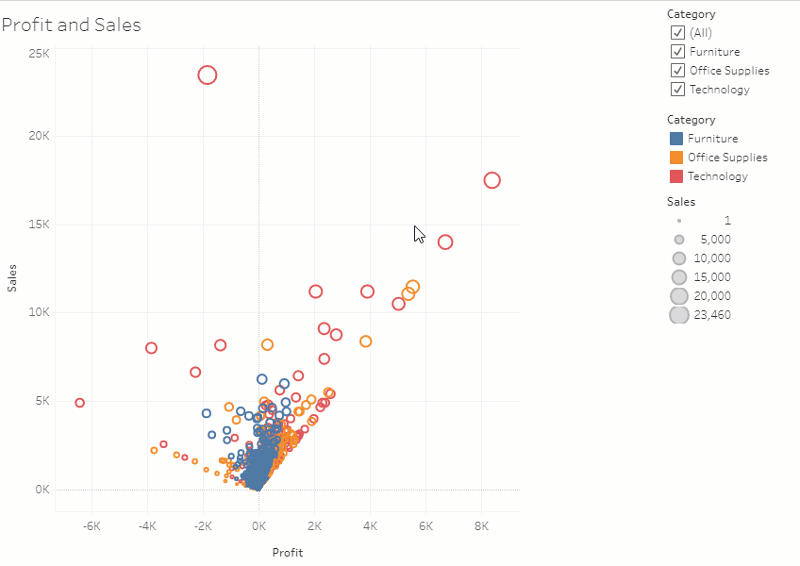 Use advanced filtering
From wherever you use Tableau, you can now use advanced filtering that was previously available only in Tableau Desktop. Use Wildcard filtering to filter for strings that match your filter criteria. Or, author Formulas that work with Conditions or Top N filters. For more information, see Filter categorical data (dimensions).
Set new permission capability for metrics
The Create/Refresh Metrics permission capability has been added for workbooks. For more information, see Permission Capabilities and Templates in the Permissions topic.
Prior to 2021.3, the Create/Refresh Metrics capability was controlled by the Download Full Data capability. On workbooks created prior to 2021.3, users who had the Download Full Data capability will have the Create/Refresh Metrics capability.
This new capability provides finer-grained control over your data, allowing you to grant users the ability to create metrics while denying the ability to view or download the full data for the view.
Control access to Explain Data with new site setting and Run Explain Data permission capability
Tableau administrators can now control the availability of Explain Data in site settings. Prior to 2021.3, the ability to enable or disable Explain Data was controlled at the server level only using the tsm configuration set option ExplainDataEnabled.
Authors can now control the availability of Explain Data at the workbook level using the Run Explain Data permission capability. For more information, see Explain Data in the Permissions topic.
Note: To make Explain Data available in viewing mode, a workbook author must also select the option Allow Explain Data to be used in this workbook when viewed online in the Explain Data Settings dialog box. For more information, see Control Access to Explain Data.
Limit the number of tags per item
A new setting allows you to limit the number of tags that users can add to Tableau content, such as workbooks and metrics, and external assets, such as databases and tables. This setting ensures that tags don't pose resource consumption problems. When you lower the tag limit, it prevents new tags from being added above the limit, but it doesn't remove existing tags on items in excess of the limit. For more information, see Site Settings Reference.
Monitor Bridge refreshes using JSON logs
Create data sources and views to monitor refresh jobs by connecting to a Bridge client's JSON log files. For more information, see Refresh jobs by client.
Provide feedback to Ask Data lens authors
If you have questions about the structure of a lens or how best to use it with Ask Data, you can send feedback directly to the author.
1. To the left of the query box for Ask Data, click the "i" icon.

3. At the bottom of the tips dialog, click Contact the Lens Author.
This option is enabled by default, but lens authors can hide it by following the steps in Let users email you questions about a lens.

Use terms previously reserved for analytical functions in Ask Data
Previously, analytical terms found in data source field names and values were ignored by Ask Data. But now it treats terms like "average", "group", "filter", "limit", "sort" and "date" just like any other form of data, letting you analyse data sources without needing to revise their contents.
Access table calculations in Ask Data
If a published data source contains calculated fields with table calculations that aggregate or sort, Ask Data now indexes and analyses those just like other fields. (Table calculations that filter or limit data are not supported.)
Use longer field values in Ask Data
Ask Data now indexes field values with lengths of up to 200,000 characters, far above the previous limit of 10,000.
Add-ons
Tableau Catalogue – part of the Data Management Add-on
Inherited descriptions appear in web authoring – When a description for a field exists upstream from the field, it now appears in web authoring with information about where the description is inherited from. For more information, see Describe fields in a published data source(Link opens in a new window) in the Tableau Desktop and Web Authoring Help.
Assets in personal spaces are indexed – Tableau Catalogue indexes assets in personal spaces, but users who browse through the lineage tool see Permissions required instead of information about workbooks in personal spaces.
Data quality warnings appear in subscription emails – Subscription emails can include data quality warnings for workbooks or views if their upstream assets have warnings. For more information, see Data quality warnings in subscriptions.
New in August 2021
See colour-coded data types and simplified phrasing for limiting and sorting in Ask Data
As you create queries in Ask Data, you'll see helpful colour-coded icons that identify data types such as numbers, text strings, tables and so on. Phrasing for limiting filters and sorting has been simplified too, making Ask Data's interpretations of your queries clearer.

Identify elements used in interpretations for Ask Data
Ask Data has added visual feedback on how your inputs are used in interpretations. Ignored words are greyed out; hovering over remaining words highlights how they're incorporated in the interpretation above.
Edit field descriptions for Ask Data lenses
Lens authors can now customise the description that appears when users hover over a field, better explaining its purpose to the audience of lens users. To change a Description entry, click the pencil icon to the right of a field name.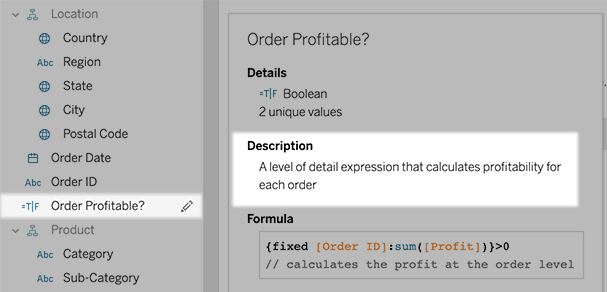 Other articles in this section
Thanks for your feedback!