What's New in Tableau Desktop and Web Authoring
Browse summaries of new features for the current release.
Tableau Desktop Release Notes(Link opens in a new window) | Known Issues(Link opens in a new window)
New in version 2021.3
Install and Deploy Tableau Desktop
Replace Tableau sample workbooks with custom sample workbooks
You can now create custom sample workbooks and show them on the Start page, replacing the sample workbooks that Tableau provides. A maximum of four workbooks can be shown. Only packaged workbooks are supported.
For more information, see Replace Sample workbooks with custom workbooks(Link opens in a new window) in the Tableau Desktop and Tableau Prep Deployment Guide.
Design Views and Analyse Data
Copy and paste dashboard objects
You can now copy and paste objects either within the current dashboard, or from dashboards in other sheets and files. Note that you can't, however, copy sheets in a dashboard, items that rely on a specific sheet (such as filters), or objects on a device layout. For the complete list of unsupported items and detailed instructions, see Copy objects.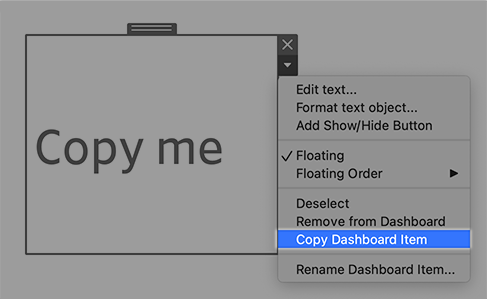 See colour-coded data types and simplified filter phrasing in Ask Data
As you create queries in Ask Data, you'll see helpful colour-coded icons that identify data types such as numbers, text strings, tables and so on. And phrasing for limiting and sorting filters now simply notes the filter itself, such as "top 5", rather than appending the affected field.
For more information, see Ask Data from a lens page or dashboard object.
Identify elements used in interpretations for Ask Data
To refine your query, remove items in grey, which aren't used in the current interpretation. Hover over remaining elements in the text box to highlight them in the interpretation above and see how they're incorporated.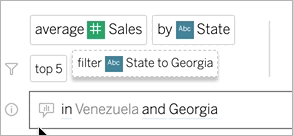 Add or replace recommended visualisations directly from the toolbar in Ask Data
If you're a lens author viewing a generated visualisation in Ask Data, you can now quickly change the list of recommended visualizations directly from the toolbar. For more information, see Add or replace a recommended visualisation

Get tips for optimising Ask Data lenses
As you create an Ask Data lens, a list of tips that helps you optimise it will appear.
To access these tips for an existing lens, simply click the circled "i" to the left of the text box.

For more information, see Create Lenses that Focus Ask Data for Specific Audiences.
Tableau Desktop Features Now in Tableau Online and Tableau
Use the same action dialogs across Tableau Desktop, Tableau Online and Tableau Server
Tableau Desktop now reflects the same action dialog boxes found in Tableau Online and Tableau Server, increasing your efficiency as you move across products. For more information, see Actions.
Unique Features in Tableau Online and Tableau Server
Identify outliers with the Data Change Tracker
The Data Change Tracker shows data that falls outside of expected ranges, revealing changes you may want to explore further. An overview of the process appears here; for details about which views are tracked and how you can interact with them, see Identify Outliers with the Data Change Tracker.
In Tableau Online and Tableau Server, you'll see recommended data changes with this icon
on the Home page and the Recommendations page. Click the thumbnail of a recommended view to open it and access the Data Change Tracker.
While looking at a specific view, you can also access the tracker by clicking Data Changes in the toolbar.
When the Data Change Tracker appears, it shows you a list of unexpected changes. Hover over each change to see the related mark in the view. Or click a change to display a graph showing how values have changed over time and impacted your business.
Reorder any dashboard object in Tableau Online or Tableau Server
In Tableau Online and Tableau Server, you can now reorder both tiled and floating objects in the Item Hierarchy list. You can also drag items both within their current containers, and into other containers at any level. This lets you nest items with more flexibility than editing on the canvas, which limits you to placing objects in the innermost container. For more information, see Reorder objects.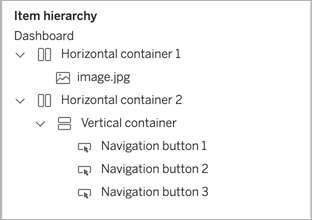 Other articles in this section
Thanks for your feedback!