Interact with Data on Tableau Mobile
Using Tableau Mobile, you can interact with views and metrics on Tableau Server and Tableau Cloud.
Interact with offline previews
Tableau Mobile stores interactive previews that you can access when you're offline. That way, if you're traveling and have no connection, you can still see your data. These previews display the last time they synced, so you know how fresh they are.
Previews are generated for workbooks and views set as your start page, workbooks and views in your favorites, and workbooks and views that are in collections that you have added to your favorites.
Previews let you scroll, pan, and zoom a viz, see data tooltips, and highlight marks. However, the following features aren't available: filtering, combined tooltips for multiple selected marks, Viz-in-Tooltip, and advanced analytics like trend and reference lines.
When you're online, these previews display while the latest view loads. Once it has finished loading, you'll automatically transition from the preview to the latest view. If you interact with the preview, you won't transition, so you don't lose analysis you've done. When you're ready to see the latest view, select the arrow in the footer to transition.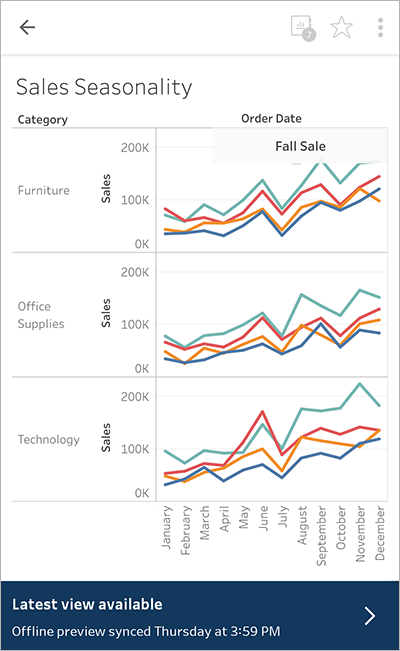 If the view can't load, an error message will display with the option to see error details. Make sure you have a connection and are on your corporate VPN, if necessary, to load the latest view.
You can turn interactive previews on or off in the app settings. Be aware that Tableau Server administrators sometimes disable interactive previews for entire organizations. Particularly complex views may render as images even if interactive previews are supported. Your administrator can change the complexity threshold. If you frequently see static images, ask your Tableau administrator to adjust client-side rendering settings.
Adjust and compare metrics
Important changes coming for Ask Data and Metrics
Tableau's Ask Data and Metrics features will be retired in Tableau Cloud in February 2024 and in Tableau Server version 2024.2. With advances in natural language technologies, we're developing an improved interface that will make it easier to ask questions of your data and stay on top of changes. For more information, see How Tableau GPT and Tableau Pulse are reimagining the data experience.
In October 2023, Tableau retired the ability to embed metrics in Tableau Cloud and Tableau Server version 2023.3, in advance of the retirement of the Metrics feature
Metrics help you track data for key numbers, like weekly sales. Optimized for mobile devices, metrics are easy to understand at a glance. For more about metrics, see Create and Troubleshoot Metrics.
Metrics have a feature available only on Tableau Mobile that allows you to adjust the date range displayed on the metric's timeline and change the comparison. These adjustments let you focus on the most important data.
Open a metric and select the

Adjust and Compare

button. This button appears only for metrics with a timeline.
Under

Date Range

, select the range you want to display on the timeline.
Under

Compare Versus

, select the date you want to compare the current value to, or select

No comparison

. This affects the change value shown below the metric value.
To display a comparison line on the metric timeline, toggle

Show comparison line

to on.
Select the back button to see your changes applied to the metric.
Metrics display data from their owner's perspective
When you look at a metric, the numbers displayed for a measure might be different from the numbers you see on the connected view. This is because some views filter data based on the viewer's credentials. The owner's credentials are used when getting the data for a metric, so you see the data from the owner's perspective.
Share content
When you share content directly with other users via Tableau, they receive a notification with a link to that content, and the content is also added to Shared with Me, so they can easily find it later. Notifications can come by email, the in-app notifications center, and in the Tableau for Slack app if the site is connected to a Slack workspace.
To share directly via Tableau:
On the content you want to share, select the share icon.
Select

With People via Tableau

.

Enter the name or username for the person you want to share with, then select the user from the list. This person must have an account on your Tableau site.
Select the send arrow.
The sharing options listed under Other Options allow you to copy the link to the content or send the link via other third-party apps you have installed, but they don't send a notification in the Tableau or Slack app and the content won't appear in the recipient's Shared with Me.
Sharing in Tableau doesn't grant the recipient permission to view the shared content. Users can request access to content they don't have permission to view, if request access is enabled on your site. Permissions can't be configured in Tableau Mobile; instead, use Tableau Cloud or Tableau Server in a desktop browser. For more information, see Permissions.
Link from one view to another
Links from one Tableau view to another open directly in Tableau Mobile rather than a browser, so you don't need to switch back to the app. You'll particularly appreciate this if your organization uses groups of dashboard links that help you navigate to other Tableau content.
Open external links to views and metrics
If someone sends you a link to a view or metric, or if you receive a notification email with a link, you can open the link directly in Tableau Mobile. Simply select the link, and it will either open in the app or open in a web browser and automatically redirect to the app. If a prompt appears asking you for permission to open the link in Tableau Mobile, accept the prompt.
If you open a link for a version of Tableau Server earlier than 2020.2, or if your Tableau administrator has disabled this feature, the link will not automatically open in the app. Instead, the link will open in a web browser, and you can select the Open in Tableau Mobile banner to open it in the app.
For more information, see Control deep linking for Tableau Mobile(Link opens in a new window).
Thanks for your feedback!