Built-in Alerts
This content is part of the Tableau Blueprint Methodology. Meet Tableau Blueprint(Link opens in a new window).
Tableau Server
If Tableau Server processes go down, the application state will be degraded or even fail depending on the process that goes down. During installation and configuration (Windows | Linux), Tableau Server was configured with an SMTP email server to notify the specified email distribution list about system alerts and failures. With system alerts enabled, you will be notified by email of process up, down, and failover events and drive space constraints. See below for recommended settings.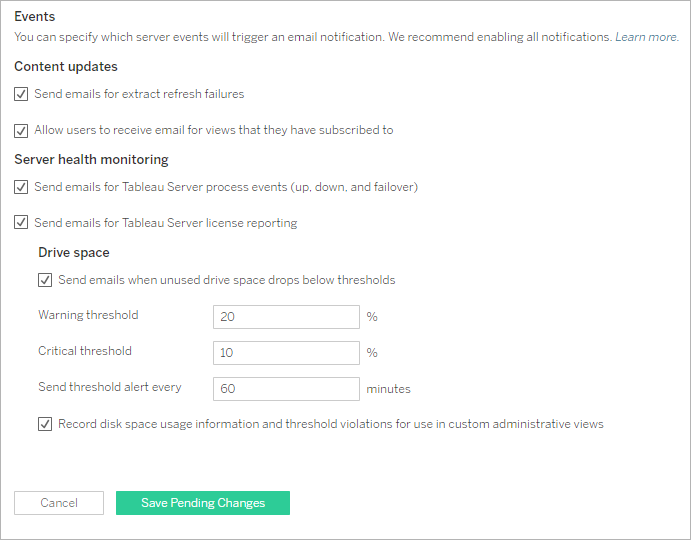 BEST PRACTICE RECOMMENDATION:
Enable system health monitoring in Tableau Services Manager for process up, down and failover events, license reporting, and disk space. Use an email distribution group of administrators rather than an individual's email address for notifications. If you are using the Resource Monitoring Tool, keep thresholds synchronized.
Tableau Cloud
Tableau Cloud Site Administrators should subscribe to Tableau Trust updates to get email, text, and Atom Feed or RSS Feed notifications when Tableau creates, updates or resolves an incident. At any time, you can visit the Tableau Trust page to view system status.
For extract refresh failures, the Tableau Cloud Site Administrator should enable Tableau Cloud to send email to the owner of a data source when its scheduled extract refresh does not complete successfully. The data source owner can then opt out individually in their account settings. For more information, see Notify Owners When Extract Refreshes Fail. For data sources that are refreshed through Tableau Bridge, notifications will vary. For more information, see Manage Email Alerts for Bridge.
Thanks for your feedback!