What's New in Tableau Desktop and Web Authoring
Browse summaries of new features for the current release.
Tableau Desktop Release Notes(Link opens in a new window) | Known Issues(Link opens in a new window)
New in version 2020.4
Connect to and Prepare Data
Find and use partner-built connectors
Tableau has great connectivity that allows you to visualize data from virtually anywhere. In addition to dozens of built-in connectors for Tableau, you'll find more connectors built by Tableau partners in the Tableau Extension Gallery(Link opens in a new window). For more information about using partner-built connectors, see Use Partner-Built Connector from the Extension Gallery.
Connect to PostgreSQL 12 using a new JDBC connector
Now you can connect to PostgreSQL 12 databases from Tableau. A new JDBC driver for PostgreSQL supports these connections and is included with all Tableau products, except Tableau Desktop for Mac and Tableau Builder for Mac. (Online support for JDBC and PostgreSQL 12 connectivity will be rolled out more gradually.)
Design Views and Analyze Data
Build maps with multiple data layers: marks layers for maps
With 2020.4, we are introducing a new way to work with geographic data. Instead of being limited to two layers of data through a dual axis map, now you can add as many layers of geographic data as you want. Simply drag your geographic data to the view and drop it on the "Add Map Layer" control that appears in the view. Each layer can be customized independently using the marks card, giving you new levels of flexibility in map creation.
For more information, see Create Geographic Layers for Maps.
Enhancements to dynamic parameters: refreshable parameter ranges
In 2020.1, we introduced dynamic parameters, which makes it possible to set a parameter's current value or list of values to the result of a view-independent calculation every time the workbook opens. Now, you can also create dynamic parameters for "range" parameters. This means that min and max values for a parameter's range will automatically update every time the workbook is opened. Tableau will query all values in a field's range and users can pick any value within the range, even if that value is not in the field's discrete set of values.
For more information, see this blog post on dynamic parameters. Also, see Create Parameters.
More models supported for predictive modeling functions
In 2020.3, we introduced the MODEL_QUANTILE and MODEL_PERCENTILE table calculation functions. By default, these functions use linear regression to generate predictions and explore relationships within your data. Now in 2020.4, you'll be able to leverage two more models: Gaussian process regression and regularized linear regression. With more models supported, you have greater flexibility and can choose the model that best fits your use case.
For more information, see Choosing a Predictive Model and How Predictive Modeling Functions Work in Tableau.
Extend date ranges into the future
You probably already know that when you're working with dates, Tableau only shows the values that are represented in your data. Until now, users have been able to show missing values to indicate incomplete data in the underlying data source, but this only applies to dates within the boundaries of the existing data source. In addition, in 2020.3 we introduced the ability to perform calculations on missing values when you select Analysis > Infer Properties from Missing Values.
In 2020.4, we've added a simple menu option that lets you easily generate and display marks beyond the existing date range. To do this, simply open the context menu of a continuous (green) date pill, and select Extend Date Range.

To see an example of this, check out Predictive Modeling Functions in Time Series Visualizations.
Get notified when features won't animate in a browser
If a workbook contains features that won't animate in a web browser, such as maps, polygons, and density marks, you now get notified at the bottom of the Format Animations pane. For more information, see Unsupported browsers and features.
Prepare, Author, and View Data on Tableau Online and Tableau Server
Use Salesforce data sources for web authoring
Creators can author and edit workbooks connected to Salesforce data sources in Tableau Server and Tableau Online.
Create highlight actions in Tableau Online and Tableau Server
Now you can create advanced highlight actions while authoring in Tableau Online and Tableau Server, from both dashboards and individual sheets. For more information, see Create Advanced Highlight Actions.
Create fixed sets in Tableau Online or Tableau Server
In 2020.3, we introduced the ability to create dynamic sets on the web. Now in 2020.4, you can create fixed sets in Tableau Online and Tableau Server, too—right in the web authoring environment—with no conditions. To do this, simply open the dimension's context menu and select Create > Set.
For more information on sets in Tableau, see Create Sets.
Apply filters to worksheets in Tableau Online or Tableau Server
Until now, when authoring on the web, applying a single filter to multiple sheets has been cumbersome. As of 2020.4, Tableau Online and Tableau Server customers can now apply a filter to selected worksheets by using a brand new dialog. In addition, the entire experience is keyboard accessible. To try it out, go to a filter's context menu and select Apply to Worksheets > Selected Worksheets.
Add labels to your marks in Tableau Online or Tableau Server
You can now choose which marks to label in a visualization while authoring in Tableau Online or Tableau Server. The same options that are already available in Tableau Desktop are now available in web authoring. This means you can label all marks, only the minimum and maximum values, just the line ends, the most recent values, or only the selected or highlighted marks in the view.
For more information, see Show, Hide, and Format Mark Labels .
Refine date ranges with Ask Data
Now you can precisely adjust date ranges in the user interface. Simply click "between", "starting", or "ending" in your questions, and change range type, date detail, and start and end points.
For more information, see Adjust date filters.
See vizzes as stacked bar charts with Ask Data
Stacked bar charts provide a great way to see how different categories contribute to your overall data. Ask Data automatically displays stacked bar charts with data best visualized that way. But you can display any query this way by adding "as a stacked bar chart" to your question or choosing "Stacked Bar" from the viz-type menu.
For more information, see Change the viz type.
Edit synonyms for field values with Ask Data
Synonyms ensure that Ask Data returns relevant vizzes, even if users' terminology differs from field names and values in a data source. Using data roles that apply across multiple data sources, you could previously edit synonyms only for field names, but now you can edit them for field values as well.
For more information, see Edit field name or value synonyms for a data role.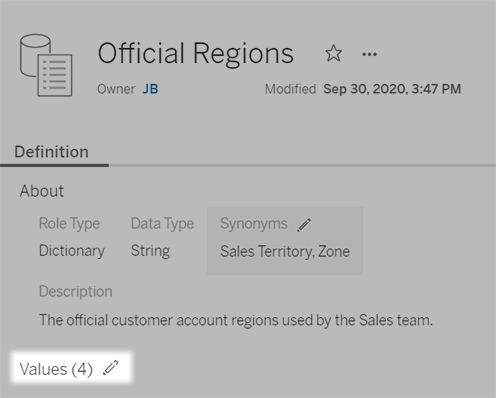 Image download improvements
When you download an image in Tableau Server and Tableau Online, selections made in the Page Setup dialog in Tableau Desktop (such as showing/hiding captions or legends) no longer apply. For more information, see Download Views and Workbooks.
Collaborate and Explore with Tableau Online and Tableau Server
New ways to see and manage custom views
Quickly access and manage your custom views on Tableau Online or Tableau Server in one place. When you look at a workbook in Tableau Online or Tableau Server, you can use the new Custom Views tab to see your saved custom views as well as custom views others have made visible to others. As the workbook owner or administrator, you can use the Custom Views tab to see all custom views on the workbook as well as view count and when the custom view was last accessed. For more information about custom views, see Use Custom Views.
Organize items in a collection (limited preview)
Collections are like playlists that let you organize your Tableau content. Create private collections for easy access to the workbooks, views, and metrics you need for your different work projects. Or make a public collection with getting started resources for new employees on your team. Collections are available as a limited preview that your administrator can sign up for on Tableau Online only. For more information, see Organize Items in a Collection.
Install and deploy Tableau
Turn off Web Page objects in Tableau Desktop
If, for security or other reasons, you don't want Web Page objects in dashboards to display target URLs, you can turn these objects off in several ways:
CPU requirement update
Beginning with version 2020.4, Tableau requires you to have CPUs that support SSE4.2 and POPCNT instruction sets. These CPUs have been common for more than 10 years and are installed on most newer computers. Tableau products are also not currently compatible with Apple Silicon processors.
If you attempt to install or upgrade Tableau on a computer that does not support these instruction sets or that uses the Apple Silicon processors, the installer will not allow you to continue.
To see a complete list of supported technologies, see tableau.com/techspecs(Link opens in a new window).
Other articles in this section
Thanks for your feedback!
There was an error submitting your feedback. Please try again.