Tableau Use Cases and Data Sources
To identify initial use cases, the project team should complete the Use Cases and Data Sources Worksheet, found in the Tableau Blueprint Planner, after the Tableau Data and Analytics Survey has been collected for each department/team to discover and prioritize which sources of data will be most impactful for the participating business teams. When prioritizing sources of data to publish and certify on Tableau Server or Tableau Cloud, begin with low complexity and high impact first to demonstrate quick wins. Publish and certify data sources, create workbooks to answer business questions. As new data sources are identified, they can be added over time. Beyond the initial use cases, this provides a repeatable process to add new data sources as the deployment progresses.
Use Cases
If you are transitioning from a traditional top-down BI approach driven by IT or favor a phased delegation of responsibilities to governed self-service, it is advantageous for IT or a centralized BI team to build the initial use cases across departments, including certified data sources and dashboards.
Over time, as analytical skills increase and users are encouraged to ask and answer their own questions, the domain of available trusted content will grow organically into a wider range of analytic content for self-service.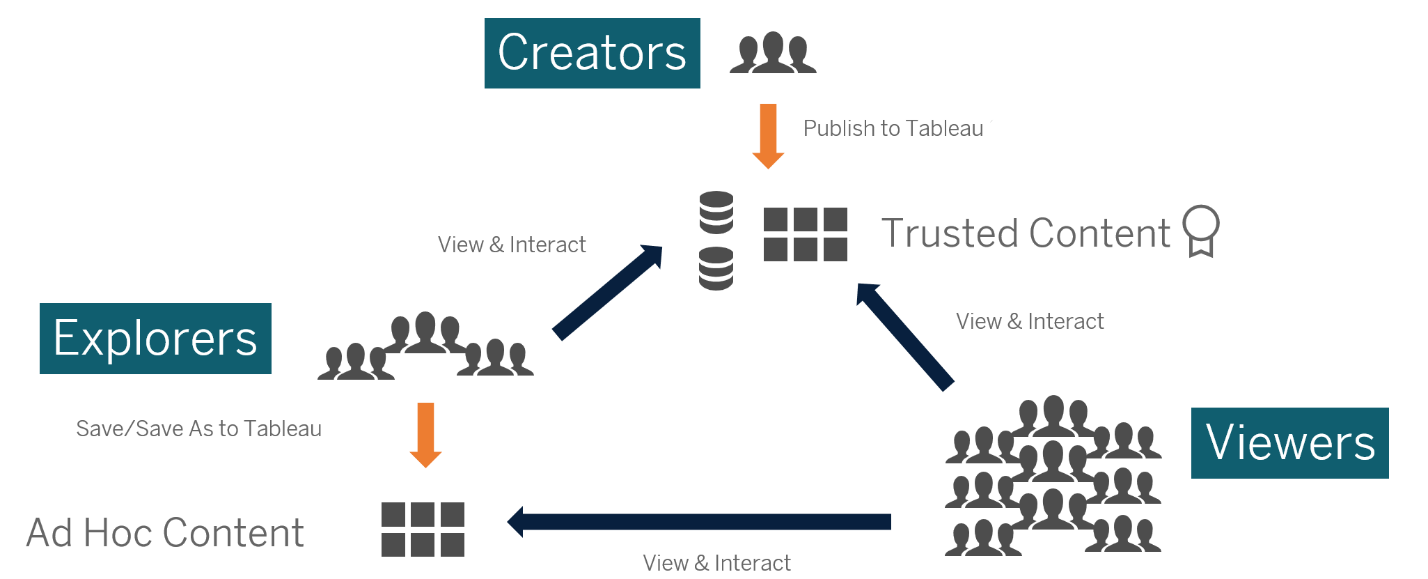 From Initial Use Cases to Self-Service
Ideas for Initial Use Cases
In addition, Tableau provides Dashboard Starters for popular line-of-business applications to accelerate content authoring. Content consumers can view and interact with the initial use cases while they ramp-up their analytical skills. After they complete some training, the initial use cases can become the starting point for build new content. Some common initial use cases by department are listed below: 
IT — Hardware/software asset inventory, helpdesk call volume/resolution time, resource allocation, security patch compliance 
Finance — Budget planning and spend, accounts payable, travel expenses 
Marketing — Campaign engagement, web engagement, leads 
Human Resources — Turnover rate, open headcount, new hire retention, employee satisfaction 
Sales — Sales/quota tracking, pipeline coverage, average deal size, win/loss rate 
Facilities Operations — Physical locations, call center volume/workload distribution, work request volume/resolution time 
For more solutions in industries and departments, see How People Use Tableau.
For CRM Analytics, Analytics Apps Templates are available for certain use cases and industries to accelerate your time to value. These apps are immediately configurable and can be used to create datasets from your data and generate pre-templated dashboards and predictions.
More Analytics Apps Templates can be found at Deploy CRM Analytics Prebuilt Apps.
Thanks for your feedback!