Using Page Playback
A view can be broken down into a series of pages so you can better analyze how a specific field affects the rest of the data in a view. For example, pages are commonly used to show change over time, with each page representing a year, month, or other specific date.
The Pages card controls allow you to flip through the pages automatically or jump to a specific page.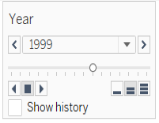 To advance through pages, do one of the following:
To view pages as a slideshow, click the Play button at the bottom of the Pages card.

To move manually through the pages, click the forward and back buttons on either side of the drop-down list,  or use the slider.

To jump to a specific page, select the page from the list.
To change the speed of playback, use the speed control in the bottom right corner of the Pages card.
To leave the marks from the previous page as you move through the pages, select Show history.
Thanks for your feedback!