Start Page
The start page in Tableau Desktop is a central location from which you can do the following:
Connect to your data
Open your most recently used workbooks
Discover and explore content produced by the Tableau community
The start page consists of three panes: Connect, Open, and Discover.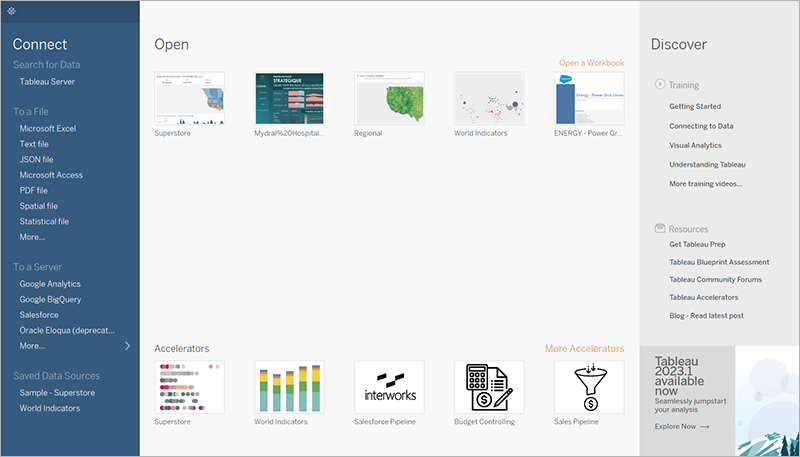 Connect
Connect to data and open saved data sources.
On the Connect pane, you can do the following:
Connect to data: Under To a File, connect to data stored in Microsoft Excel files, text files, Access files, Tableau extract files, and statistical files, such as SAS, SPSS, and R. Under To a Server, connect to data stored in databases like Microsoft SQL Server or Oracle. The server names listed in this section change based on which servers you connect to and how often.
Open saved data sources: Quickly open data sources that you have previously saved to your My Tableau Repository directory. Also, Tableau provides sample saved data sources that you can use to explore Tableau Desktop functionality. To follow along with examples in the Tableau Desktop documentation, you'll usually use the Sample – Superstore data source.
Open
Open recent workbooks, pin workbooks to the start page, and explore Accelerator and sample workbooks.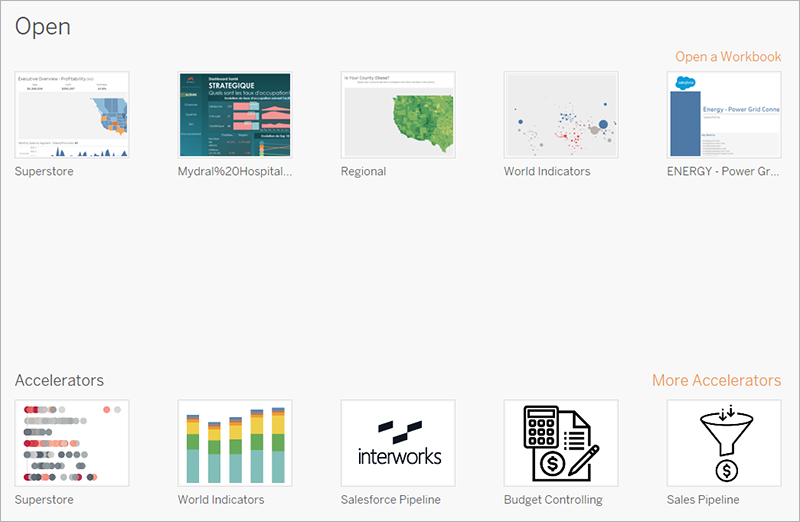 On the Open pane, you can do the following:
Open recently opened workbooks: When you open Tableau Desktop for the first time, this pane is empty. As you create and save new workbooks, the most recently opened workbooks appear here. Click the workbook thumbnail to open a workbook, or if you don't see a workbook thumbnail, click the Open a Workbook link to find other workbooks that are saved to your computer.

Pin workbooks: You can pin workbooks to the start page by clicking the pin icon that appears in the top-left corner of the workbook thumbnail. Pinned workbooks always appear on the start page, even if they weren't opened recently. To remove a recently opened or pinned workbook, hover over the workbook thumbnail, and then click the "x" that appears. The workbook thumbnail is removed immediately but will show again with your most recently used workbooks the next time you open Tableau Desktop.

Explore Accelerators: Open and explore Accelerators and sample workbooks. The Superstore and World Indicators workbooks are samples that demonstrate what you can do with Tableau. The other three workbooks are Accelerators from the Tableau Exchange. Accelerators are pre-built dashboards targeted at different industries and applications that you can add your data to for quick analysis. More Accelerators shows all Accelerators from the Tableau Exchange. Prior to 2023.2, this section showed only sample workbooks.
Discover
See popular views in Tableau Public, read blog posts and news about Tableau, and find training videos and tutorials to help you get started.
Thanks for your feedback!