Use Certified and Recommended Data Sources and Tables
To speed up the process of validating and setting up data, use certified and recommended data sources and tables. Here's how these options differ:
Certified data sources are carefully chosen by site administrators and project leaders.

Recommended data sources include personally certified ones and others automatically picked for you based on usage patterns at your organization.

Recommended tables are database tables that are used frequently in data sources and workbooks published to your Tableau server.
By taking advantage of relevant content that's already available, you can avoid duplicating work and spend more time on your analysis.
Note: To access these features in Tableau Desktop, you need to sign in to Tableau Server or Tableau Online from the Server menu.
Certified data sources published to Tableau Server or Tableau Online
Certified data sources appear with a unique certification badge. Hover over the badge to learn who certified the data source, read any descriptive notes they've provided, and confirm the connection type.
Here's how certified data sources look when you connect to data in Tableau Desktop.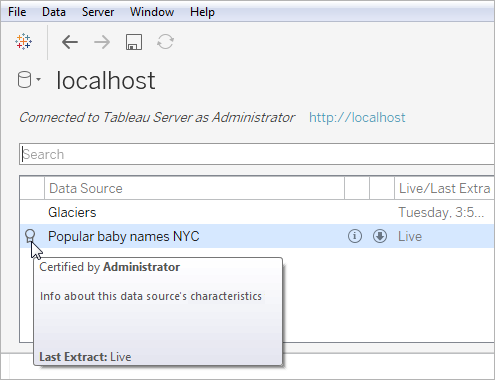 And here's how you can identify certified data sources in Tableau Server or Tableau Online.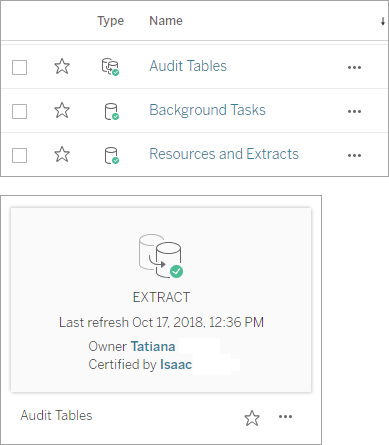 Recommended data sources published to Tableau Server or Tableau Online
On the right side of the data source setup page, click the Recommended Data Sources button to quickly access popular data sources at your organization.
Note: Tableau Server administrators can turn off recommendations features(Link opens in a new window).
Recommended tables
Recommended tables appear in the left pane of the data source page. After you add a recommended table to the canvas, the Recommended list shows tables frequently joined to the table you added. If you join a recommended table, Tableau uses the most popular fields and join type by default. (Any foreign keys specified in a database override recommended joins).
Recommended data sources and tables are supported for a subset of data connectors. If you don't see the Recommended list while signed into Tableau Online or Tableau Server from Tableau Desktop, the current data connector doesn't support recommendations.
Thanks for your feedback!