What's New in Tableau Prep
Browse summaries of new features for currently supported versions.
All Tableau Prep Release Notes(Link opens in a new window) | All Known Issues(Link opens in a new window)
Added in version 2021.1.4
Explore your Data
Hide fields
Hide fields that you don't need to clean while still including them in your flow output. You can hide fields at any time and Tableau Prep won't generate the data for those fields until your run the flow to create your flow output. All hidden fields are marked with a

hidden fields icon. View a list of hidden fields in the Hidden Fields profile card. This card is automatically generated when you hide fields in your flow.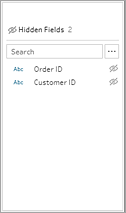 For more information, see Hide fields.
Clean your Data
More options when converting dates
You can now convert your date field values to either the day of the week or month name in one click. This feature adds two new options to the existing Convert Dates functionality added last year.
For more information about converting date values, see Apply cleaning operations.
Other articles in this section
Thanks for your feedback!