The importance of data to the modern enterprise is no longer a topic of debate. The sheer volume of data that organisations capture, store and organise continues to grow at a staggering pace. In an age of data, suddenly every company is a data company. Although the transformational potential of data is practically limitless, most companies still struggle to fully realise the value of their data. So how do you transform into a data-driven organisation?
Tableau is the trusted standard in modern analytics and business intelligence platforms, enabling your entire organisation to work smarter in its seamless end-to-end experience. Tableau provides powerful and intuitive analytics for users of all skill levels while integrating with your existing technology investments. This also includes Tableau Business Science, which brings powerful data science capabilities to business people by introducing a new class of AI-powered analytics that puts data science techniques in the hands of business people, helping them make smarter decisions, faster. 
Realising the full value of your data means empowering everyone to make better decisions with it, and this cannot be done simply by choosing the right technology. As you chart your course to becoming a data-driven organisation with Tableau, it's important to remember that you are not just deploying software – you are driving organisational transformation by prioritising facts over intuition, with data at the centre of every conversation. Your decisions should not only give people the right tools, but they must also enable the development of new skills, create new behaviour, encourage participation and recognise achievements to alter how the organisation uses data every day.
Driving change across your organisation requires effort and the coordination of multiple stakeholders and users with different and sometimes opposing – yet valuable – viewpoints and interests. Orchestrating change, and doing it efficiently, requires executive advocacy, as well as alignment and participation from a broad set of cross-functional participants to ensure the needs of the entire organisation are being met.
Tableau Blueprint is a step-by-step guide to becoming a data-driven organisation, whether your organisation is new to modern self-service analytics or you've already deployed and need to broaden, deepen and scale your use of data. Transforming how your company makes decisions every day is no easy task, but incorporating data and analytics into decision-making cycles is how you will see the most transformative impact on your organisation. Achieving that level of transformation requires a deliberate and holistic approach to developing your analytics practice. Although every organisation's approach to developing a data culture will differ, Tableau Blueprint outlines the processes and best practices from thousands of customers.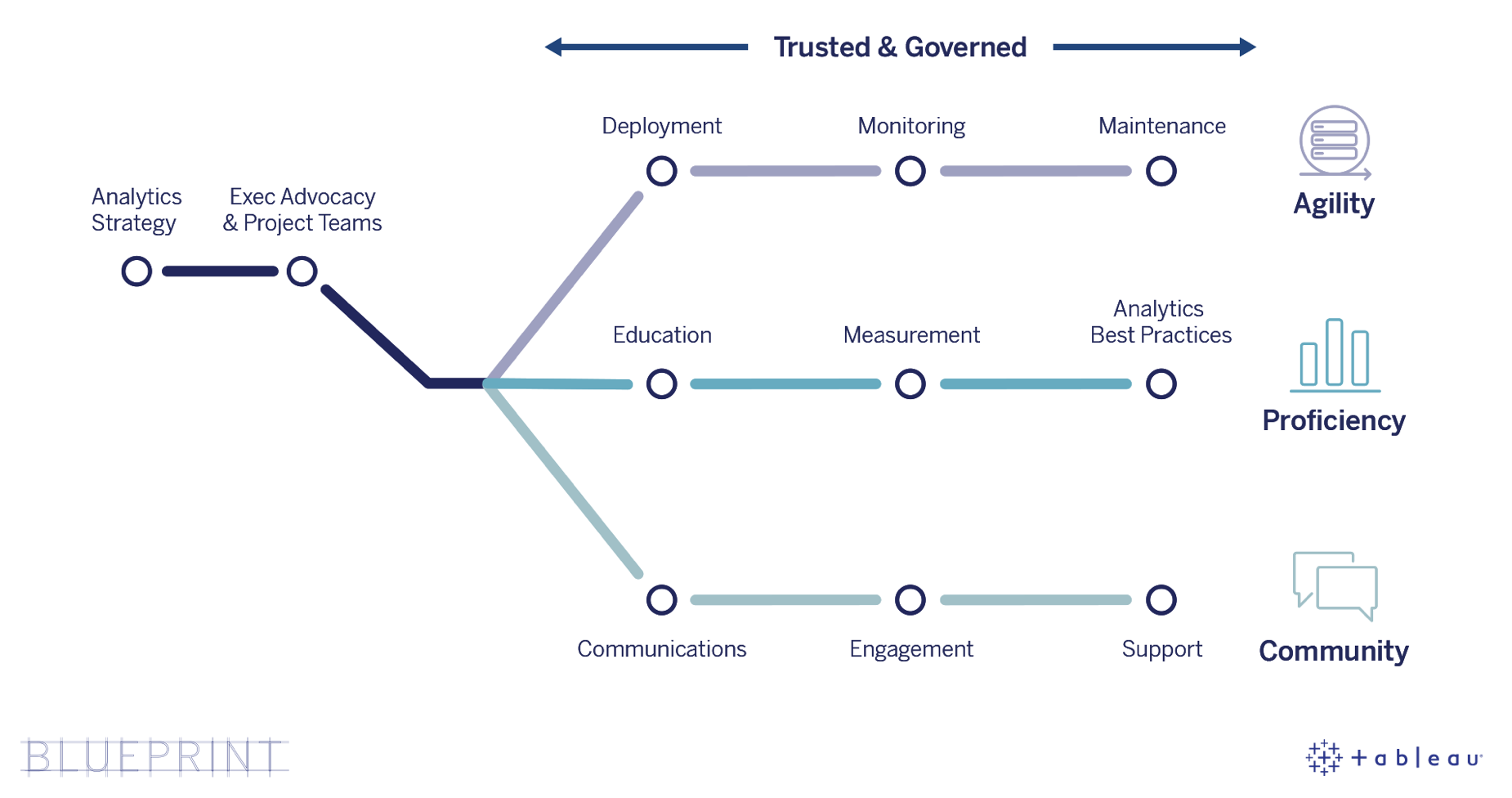 This topic explains the core capabilities, the repeatable processes to empower more people to make data-driven decisions, and how to build a thriving data-driven mindset throughout your organisation.
Other articles in this section
Thanks for your feedback!