This document gives you an overview of the Tableau Resource Monitoring Tool.
What is
Resource Monitoring Tool

?

The Resource Monitoring Tool is a tool that you can use to monitor the health and performance of your Tableau Server. It gathers data from your Tableau Server to provide a comprehensive look at the health of Tableau Server. Using this tool, you can identify the cause of slow loading times, extract failures and other critical issues. To use the Resource Monitoring Tool, you must have the Advanced Management enabled on your server. For more information on the Advanced Management, see About Tableau Advanced Management on Tableau Server

The Resource Monitoring Tool has two main components: Resource Monitoring Tool Server (RMT Server) and Agent.
The RMT Server is where the data from Tableau Server is collated and served up through a web interface. This is also where you can configure, monitor and analyse the health and performance of Tableau Server.
An Agent runs on each of the nodes in your Tableau cluster to monitor their performance and activity. The following diagram illustrates the interaction between a Tableau Server node and the RMT Server.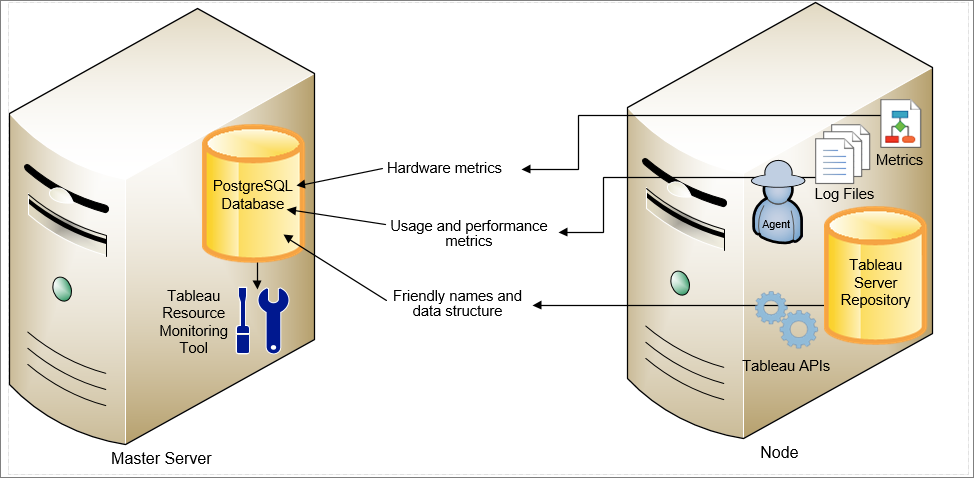 Other articles in this section
Thanks for your feedback!