Color a View Using Groups
In addition to correcting data errors and combining dimensions, you can visually identify groups of related marks by selecting marks directly. This technique is especially useful when working with a scatter plot or a view that doesn't have headers that you can select when defining the group.
Press and hold the CTRL or Shift key on the keyboard to select one or more marks in the view. On a Mac, use the Shift key.

To create a group do one of the following:

For Tableau Desktop, click the Group button on the toolbar or right-click and select Group.

For Tableau Server or Tableau Online, click the Group icon on the tooltip.
The selected marks are grouped and all other members are combined into an "Other" category. The new group field is automatically added to Color. For more information about grouping fields using Other, see Include an Other Group(Link opens in a new window).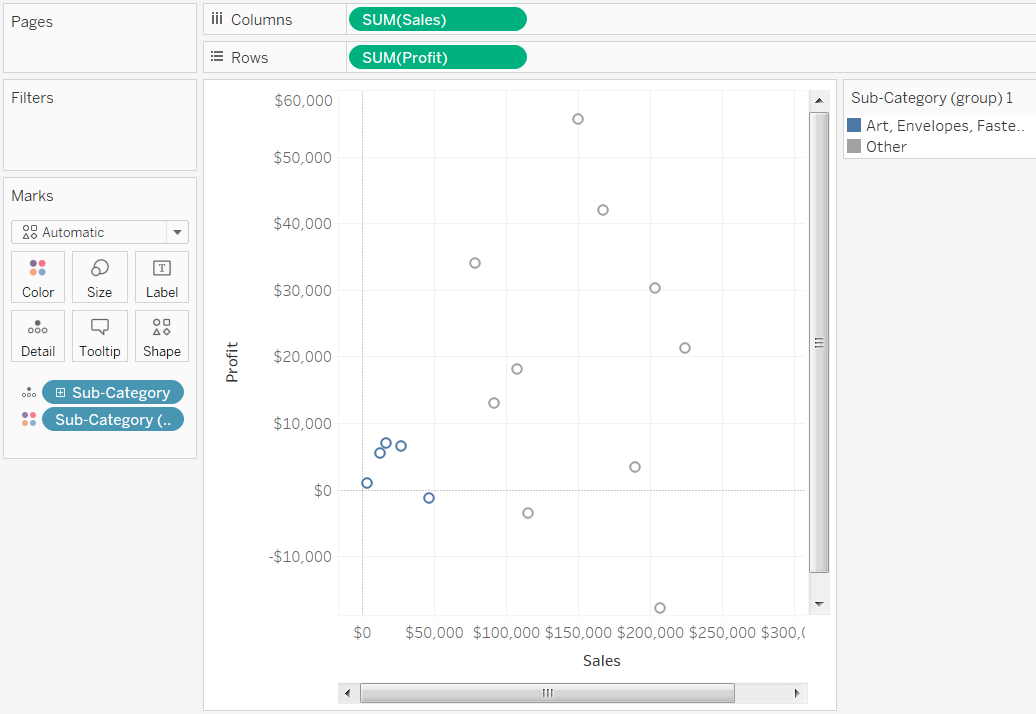 Note: If there were already fields on Color, they are moved to Detail and replaced with the group field.
When you create groups by selecting marks, it's possible that the marks will represent multiple dimensions. For example, you may have a scatter plot that shows the Sales vs. Profit by Region and Sub-Category. In this case, a selection of marks will represent members of both the Region and Sub-Category dimensions. When the selection represents multiple dimensions, the Group menu lets you choose to group on All Dimensions or on a particular dimension.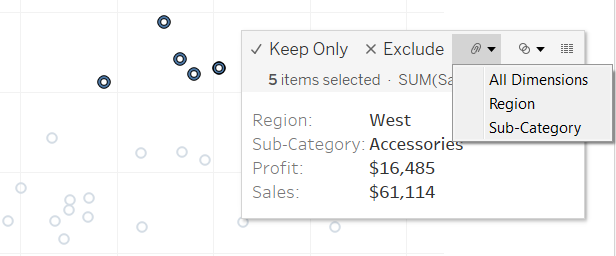 In the example above, the 5 selected marks represent a region and the following sub-category combinations .
West, Copiers
West, Binders
West, Accessories
East, Copiers
Central, Copiers
South, Art
South, Envelopes
South, Labels
West, Envelopes
West, Labels
The views below show the results of grouping these measures on All Dimensions, Sub-Category, and Region.
| All Dimensions | Sub-Category | Region |
| --- | --- | --- |
| | | |
| The 5 marks are combined and the rest of the marks are added to an "Other" category. | All marks associated with any of the three sub-categories are combined and everything else is added to an "Other" category. | All marks associated with the four regions are combined and everything else is added to an "Other" category. |
Thanks for your feedback!