Dashboard Starters for Cloud-based Data
Dashboard Starters help you quickly author and analyse data from cloud-based systems like Salesforce, ServiceNow ITSM, LinkedIn Sales Navigator, Marketo and Oracle Eloqua.
Simply create a new workbook and choose from several beautiful, informative designs that are tailor-made for key business metrics.
Create a Dashboard Starter
It's easy to create a Dashboard Starter. When the process is complete, you can edit the resulting workbook(Link opens in a new window) just like any other, quickly customising it for your needs.
In Tableau Online, open the Explore page, then click the New button and select Workbook.

Note: Site administrators can also access Dashboard Starters from the Home page, under Dashboard Starters.

At the top of the Connect to Data window, click Dashboard Starter.

From the list of pre-built designs, find an option that reflects the data source and business metrics you need, and click Use Dashboard.

To quickly see how a workbook looks with sample data, click Continue without signing in. Or click Continue to create a workbook with your data.

Specify a name and containing project for the workbook.

If you chose to create a workbook with your data, connect to your data source. While Tableau prepares an extract of your data, sample data appears so you can explore the layout.

That's it – you've created a rich, interactive dashboard in seconds!
Change permissions to share Dashboard Starters with colleagues
To avoid exposure of confidential data, workbooks for Dashboard Starters are visible only to authors and administrators by default. To share a Dashboard Starter with your colleagues, follow these simple steps:
In Tableau Online, navigate to the workbook(Link opens in a new window) for the Dashboard Starter.

Select the workbook, click Actions, and choose Permissions.

Give View permissions to any user or group you want to see the dashboard. For more information, see Edit Permissions(Link opens in a new window) in Tableau Online Help.
Replace sample data with your data
If you chose to quickly load sample data in a dashboard, you can replace it with your data at any time.
In Tableau Online, navigate to the workbook(Link opens in a new window) for the Dashboard Starter.

On the Data Sources tab, select the data source. From the Actions menu, choose Edit Connection.

For authentication, select Embedded credentials in the connection, and either choose an existing user account or add a new one. Then click Save.

On the Refresh Schedules tab, select the schedule. From the Actions menu, choose Run Now.
Fix greyed-out views by replacing field names
If your organisation has customised the data structure for a cloud-based system, you may need to match those changes in Dashboard Starters after your data loads in them. For example, if your organisation has renamed the Salesforce "Account" field to "Customer", you'll need to make a corresponding change in Dashboard Starters to avoid greyed-out views like this: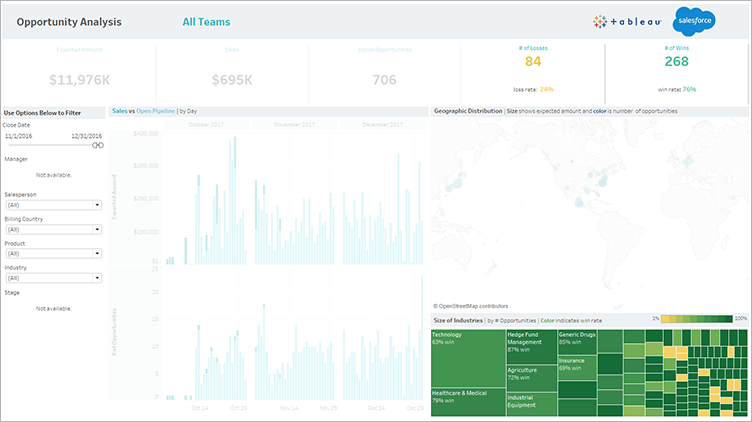 Fortunately, the fix is pretty straightforward:
Above the dashboard, click Edit.

In the Data pane on the left, look for red exclamation points (!) next to field names, which indicate that your organisation uses different names.

Right-click each of those fields, and choose Replace References. Then select the correct field name from the list.
Fix empty dashboards by changing default date ranges
If a dashboard looks completely empty, the likely cause is a default date range that doesn't correspond to the dates in your source data.
Download the workbook(Link opens in a new window), and open it in Tableau Desktop.

Click the Data Source tab.

In the upper-left corner, click the arrow next to the data source name, and choose Edit Connection. Then sign in.

Specify a date range that reflects the dates in your data, and click Connect.

Choose Server > Publish Data Source to update extracts of the data on Tableau Online.
Thanks for your feedback!